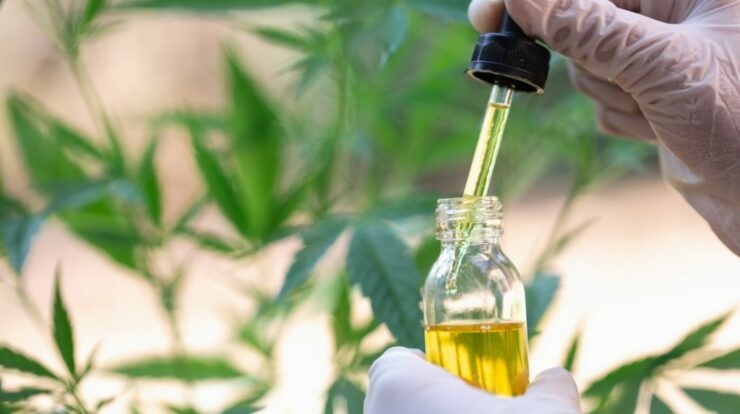 Full-spectrum CBD oil is made from an extract of Cannabis Sativa that has been used for thousands of years as a medicine. Today, this plant's chemical compound, called CBD, is widely known for its health benefits. Full-spectrum CBD is extracted from cannabis and includes many non-CBD cannabinoids, including THC, as well as other hemp plant components, including naturally occurring terpenes, basic vitamins, fatty acids, protein, etc. The global demand for cannabis is huge and is rising bigger by the day. The global medical cannabis industry stands at $13.4 billion in 2019, according to studies and markets, and is hurdling up to $44.4 billion by 2024. The widespread use of full-spectrum CBD is a significant reason for that development. Full-spectrum CBD oils are the most popular type of medical cannabis use. CBD oil is widely credited with helping to treat serious medical conditions such as anxiety, depression, muscle pain, migraines, and other medical conditions that are adverse.
Processing of full-spectrum CBD:
If a CBD oil product appears to be the result of a full-spectrum extraction process, this suggests that the original terpenes of the plant and other forms of cannabinoids, including cannabinol (CBN), cannabigerol (CBG), and trace amounts of THC, were not filtered out during the extraction process. To extract cannabinoids, manufacturers use dried hemp plant matter. Typically, to draw out these plant compounds, a process called supercritical CO2 extraction is used. The outcome is a full spectrum crude extract of CBD that includes all the natural hemp Phyto-compounds. Manufacturers filter and process the oil more thoroughly for other goods, such as broad-spectrum or isolate, until it contains just the necessary cannabinoids. Here are some of the cannabinoids in a full-spectrum CBD product that you can hope to find:
Cannabidiol (CBD): Obviously, CBD itself is the most crucial component of any CBD product. This non-intoxicating cannabinoid provides a wide variety of everyday uses.
Cannabigerol (CBG): The chemical precursor to many other cannabinoids (including CBD) is CBG, another main cannabinoid. It is an integral compound that can have its own unique benefits and is usually present in most strains of hemp in amounts of less than 3 percent.
Cannabichromene (CBC): CBC is one of the six hemp cannabinoids that are the most abundant. However, in a full-spectrum product, you'll usually only find small amounts of CBC.
Tetrahydrocannabivarin (THCV): This cannabinoid is present in the full-spectrum CBD oil products in small amounts.
Why Full-Spectrum CBD Oil is Important?
Although research on the efficacy and risks associated with CBD products continues, special emphasis has been put on full-spectrum CBD oil, especially about its potential benefits and disadvantages. Although the data is scarce and most studies concentrate on the effect of full-spectrum CBD oil on mice and not on humans, the early returns indicate that full-spectrum CBD shows a great deal of promise, especially on these fronts of care. The following are qualities that contribute to the benefits of full-spectrum CBD:
Perhaps the biggest lesson from early testing on full-spectrum CBD is that it works much longer than isolated CBD in the treatment of different diseases. The "team effect" of full-spectrum CBD lasts for a long time when used for various conditions by incorporating multiple cannabinoids into a single, packaged prescription, offering patients more efficient and safe treatment choices.
At least 113 known cannabinoids are found in full-spectrum CBD, all produced within a single hemp plant. More and more developers of cannabis products are extracting and using the most robust parts of the plant for various medical treatments, especially the fatty acids and hemp oils of the plant, which are in high demand for cannabis products.
The fact that full-spectrum CBD comes naturally, right from Mother Nature, is welcomed by both cannabis developers and consumers. The bulk of full-spectrum CBD products are non-genetically modified, are herbal, and do not come with pesticides or chemicals.
An exceptionally low percentage of THC is present in full-spectrum CBD oil. The THC amount, the chemical compound that gives its "high" to marijuana, stands at a low 0.3% contained in industrial hemp.
As a dietary supplement or as a direct medical treatment, full-spectrum CBD is readily available. In all 50 U.S. states, CBD oil is available, and you don't need a prescription to purchase CBD full-spectrum products.
Uses of Full-Spectrum CBD in Medical Conditions:
In the belief that multiple cannabinoids and terpenes working together would result in a larger overall effect, many consumers tend to use CBD full-spectrum oil. And most practitioners appear to agree. That said, products isolated from CBD have their advantages. For one thing, you can rest assured that you won't eat any THC. Users will want to stay away from THC altogether for those in jobs that require random drug testing since it is likely that even the small amount of THC present in a full-spectrum CBD product may be up for the screening. Full spectrum Cbd oil used in medical conditions provide many benefits, as mentioned below:
It acts as a natural pain relief medication for headaches and aches in the body. To relieve body stiffness, headaches, and inflammatory or chronic pain, full-spectrum CBD provides users with an all-natural ingredient. That's exactly what a major cannabinoid study showed, with a significant decrease in pain detected by full-spectrum CBD oils among mice tested. In the analysis, researchers found that chronic pain and inflammation in mice only eroded, without the "hangover" side effects so common in therapies for chemical-based pain.
Full-spectrum CBD provides a route to non-smoking life for lifelong smokers trying to leave their last puff in the rearview mirror. Smokers who used CBD-based inhalers were considerably more likely to curb or minimize their use of cigarettes, according to a recent report, leaving their nicotine addiction behind in the process.
It addresses a range of normal, but threatening, mental health problems. To the list of mental disorders that full-spectrum CBD oil addresses, add anxiety, depression, and even opioid abuse, with promising results. Studies also show that daily use of CBD oil can either curb or eradicate problems of anxiety, depression, and addiction.
Act as a cure for Cancer-Fighting. Data on cannabis as a cure to fight cancer is also emerging from the medical community. Data from one study showed that full-spectrum CBD oils, can cure cancer cell growth and buy more time for successful therapies because of low levels of toxicity. Cannabicromene in full-spectrum CBD has anti-cancer properties.
Further evidence indicates that full-spectrum CBD can also help cure severe neurological disorders such as Parkinson's and Alzheimer's. Studies have shown that the combined compound elements present in full-spectrum CBD have been able to help alleviate symptoms, resulting in improved patient outcomes for neurological patients who have been treated with cannabis oils.
THC In Full-spectrum CBD:
A small amount of THC, the intoxicating compound contained in marijuana, is present in the full range of CBD products. Know that CBD products from hemp plants containing less than 0.3 percent THC are derived from Laura's Homestead Alternatives-a requirement by federal law and a measure we ensure by testing each batch of CBD in collaboration with an approved, DEA-registered third-party lab. Of course, no mind-altering impacts will be generated by full-spectrum CBD oil with THC. CBD products are absolutely non-intoxicating, meaning they would not result in psychoactivity even in high milligram levels.