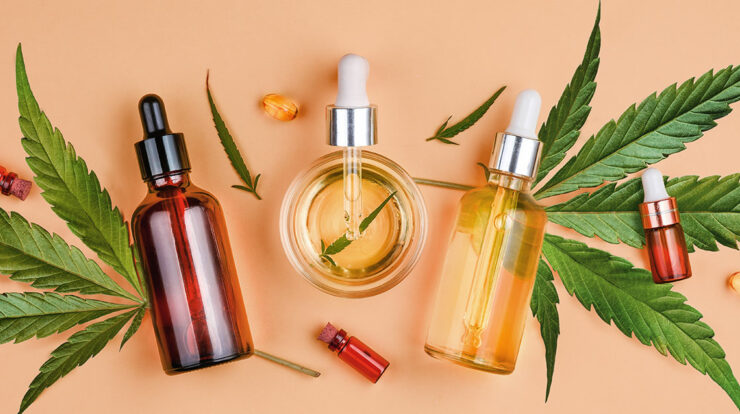 Cannabidiol (CBD) is a compound extracted from hemp (a type of cannabis plant) and used to make CBD oil. A lot of people take CBD hemp oil to feel better since CBD has many potential health benefits.
However, it isn't always easy to find high-quality products in such a crowded market. That's why we made this buyer's guide to help you find the best CBD oil for you.
Whether you're focused on sticking to your budget, taking a strong CBD oil, or finding the right product for your symptoms, there's a hemp oil out there for you. To make things easier, we've tried hundreds of different hemp products, and found the highest quality CBD oils for sale online.
Remember, this round-up takes into account more than 100 of the best CBD companies; testing of more than 50 products by an independent lab; and our team tried every product. We're proud to stand by our picks.
1. Best Overall – Spruce CBD
Brand review: Spruce CBD wants to help people find real relief, and they make a point to listen to customers about what they need. Their lab grade CBD oil is made from a consistent, quality supply of hemp extract, and customers can choose whether they prefer MCT oil (coconut oil), or hemp seed oil for the base for their tincture. The Spruce website is full of customer reviews from real people talking about how the products worked for them.
Flavor: Natural
Hemp source: U.S.A.
Why buy: A strong product with exceptional customer reviews.
2. Best THC-Free CBD – Medterra
Brand review: If you want to access the wellness potential of CBD but also want to completely avoid any chance of ingesting THC, Medterra is the brand for you. These quality THC free CBD oil products are great for employees who are regularly drug tested, as they won't trigger a bad result. Their oil tinctures have a neutral taste, because they are isolates, which makes them easier to swallow for people new to CBD. Medterra's nighttime line has been especially popular with our readers.
Flavor: Neutral (unflavored)
Hemp source: Kentucky
Why buy: Great online shopping experience, quick and easy service.
3. Best Full-Spectrum – FAB CBD
Brand review: Not only does FAB CBD have great full-spectrum tinctures that come in a variety of strengths (300mg, 600mg, 1200mg, and 2400mg), but they also offer 5 different flavor options to allow customers to choose which one matches their palate the most. I gave this product to family members who wanted to try CBD for the first time and they loved the taste.
Flavors: Berry, vanilla, mint, citrus, and natural
Hemp source: Colorado
Why buy: Quick, easy online shopping experience and quality full spectrum options.
4. Best for Pain – NuLeaf Naturals
Brand review: NuLeaf Naturals makes strong, concentrated CBD oils that are all around 50mg per mL. We like that the concentration is the same across the product line because you just have to decide how much you want to buy—there's only one choice. Plus, these products are made using a CO2 extraction process that removes the CBD from 100% organic hemp plants. Anecdotal feedback from customers suggests that people who want something strong and consistent for pain relief are buying NuLeaf and getting results.
Flavor: Very natural
Hemp source: Colorado
Why buy: Consistent concentration across bottle sizes makes dosing easier.
5. Best for Anxiety – Seabedee
Brand Review: Seabedee excels at creating condition-specific CBD oil formulas, and we are big fans of their CBD calming blend. This CBD oil features a total of 500mg of CBD, as well as other beneficial cannabinoids like CBN and CBG. This full spectrum oil also includes natural anxiety-relieving terpenes like Limonene and Linalool to help ensure a restful night's sleep.
Flavors: Light floral taste
Hemp source: U.S.A.
Why buy: Robust blends of cannabinoids and terpenes are labeled to help you shop smarter.
6. Best for Sleep – Charlotte's Web
rand review: Charlotte's Web is has some of our favorite CBD oils for sleep. They also have a long history of sourcing American hemp. I would buy Charlotte's Web CBD oils if I was looking for help supporting calm for focus, the management of everyday stress, and healthy sleep cycles.* One thing about Charlotte's Web, we hear this product is best if taken regularly, and kept in your system.
Flavors: Mint chocolate, olive oil (natural), orange blossom, lemon twist
Hemp source: Colorado
Why buy: Established brand with track record of testing and innovative quality control.
7. Strongest CBD Oil – CBDistillery
rand Review: With quality CBD oils starting at $20, CBDistillery offers good products at a great price. This affordability and their extremely potent CBD oils (like the 2500mg and 5000mg options) have made CBDistillery one of the fastest growing companies in the hemp space. Their Colorado-grown product line is comprehensive, including various oil concentrations, salves, edibles, and suppositories.
Flavor: Natural
Hemp source: Colorado
Why buy: Fairly priced high concentration oils that are Made in America.
8. Best Value – Naternal
Brand review: Another high value brand is Naternal, which offers both broad- and full-spectrum CBD oils, so customers can choose if they want a completely THC-free extract or a fuller range of beneficial cannabinoids and plant terpenes. We talk about the quality, taste, and effects, and I mean it when I say I tell a lot of friends to start with this product if they want to see if CBD is right for them (and pay only $20 for their lowest potency product).
Flavor: Natural
Hemp source: North Carolina
Why buy: Strong products with helpful dosing information on bottle and in packaging.
9. Best Broad-Spectrum – cbdMD
Brand review: cbdMD has a diverse line of American-made, high-quality broad spectrum CBD oil products. This CBD company has also made an effort to reach out into the sports world to expand the reach of hemp derivatives. Their quality CBD tinctures have a light taste, various flavors, THC-free options, and are a great starting place for people who want to try CBD for recovery.
Flavors: Natural, berry, orange, mint
Hemp source: Kentucky
Why buy: Wide variety of product options—all THC free.
Best Variety – Green Roads
Brand review: Green Roads CBD products are formulated by a licensed pharmacist, and the brand has developed a strong reputation for helping push the hemp industry forward. In addition to their broad spectrum, THC-free tinctures and edibles, Green Roads now carries full-spectrum options, as well as a variety of strengths and flavors to choose from.
Flavors: Natural, mint breeze, and apple kiwi bliss
Hemp source: U.S.A.
Why buy: One of the few brands to manufacture their own products in a CGMP facility.
How to Choose the Best CBD Oil for You
1. Consider your budget
Before you even think about buying CBD online, it's important to consider what you are comfortable spending. Products in this market can get very pricey, so setting a maximum cost limit for yourself can help narrow down brands and find something that works for you, without breaking the bank.
We talked about how hard it is to compare CBD oils, especially when it comes to their value. Budget and cost should be a part of your purchasing decision. Use the chart below to measure the value of brands you like against one another.
2. Check lab test results
Top brands should show third-party lab test results on their website or send these results to you upon request. There are a number of things a you can look for in these results when deciding between different brands.
Batch numbers: Some brands test so frequently you can check an individual product's batch number and follow a crop from soil, to lab, to bottle. You should at least see recent lab results—maybe within the last quarter, absolutely within the last year.
Cannabinoid concentration, potency, and terpene levels: A JAMA study found that almost 70% of CBD products are mislabeled. Significantly more CBD vapes were mislabeled than CBD oil in this study. Regardless, it's important to check lab results to verify the products you are buying were tested to validate levels of CBD, THC, and other active compounds like terpenes. More recent news has shown counterfeit products are a problem.
Pesticides and heavy metals: Hemp will suck up whatever is in the soil. This is another reason why we like established brands on established land versus pop-up brands that may source hemp from unproven ground. You can check lab results to assure heavy metal content is below safe thresholds.
Solvents and bacteria, like salmonella: All products should be free of solvents and microbiological contaminants. They should also be manufactured in clean facilities.
3. Check to see what kind of CBD extract is in the product
There are three types of CBD products: full spectrum, broad spectrum, or isolate. I believe broad- and full-spectrum oils have greater therapeutic value due to the "entourage effect." The entourage effect is a proposed biological concept describing multiple cannabinoids and other active compounds (e.g., terpenes) in hemp working together in a synergistic way. Experts I've talked to support this idea of whole-plant therapy. Although some people prefer CBD isolate as a way to completely remove THC and only consume CBD.
4. Try multiple CBD brands
We tell you to look out for bad actors. But the truth is, there are a lot of good CBD companies that care about people. On things like taste and concentration, you may want to try different brands until you find the perfect one that suits your preferences.
Our CBD Oil Review Criteria
It's not easy to rank the many CBD oils that are on the market today, so in order to find the ones that are truly top-tier, we created our own system.
We now evaluate brands based on 6 Core Principles:
Value ($/mg)
To find the price per milligram of CBD, we've divide the price of a bottle by the total milligrams of CBD to make a cost comparison.
Strength (mg/ml)
To determine the strength of a CBD oil, we divide total milligrams of CBD in a product by the number of milliliters in the bottle to compare the CBD potency.
Source (USA/European/Other)
We believe in American hemp (especially if it's organic), and all of the brands on this list use as domestically sourced cannabis plants for their CBD oil.
Flavor
The taste of a CBD oil is an important differentiator when you're buying a tincture, as some people don't want an earthy tasting product.
Transparency
We only trust brands that have easily accessible, recent third-party lab results and remain open and clear about the extraction methods they use.
Customer experience
We provide notes on customer service, buying experience, shipping policies, brand mission, and non-profit or assistance initiatives that can help distinguish a CBD company.
Why Should You Buy CBD?
Taking CBD, when it comes down to it, is about using a plant-based natural wellness approach to try to feel better. Being more focused with your family, more relaxed after work, or a little less sore after a workout.
Industrial hemp-derivatives like CBD oil products have been featured in various clinical trials and animal studies, but a lot of the evidence that suggests CBD may help comes from people like you. People who tried the products for an ailment and reported back to friends and family.
Below is a lot of info on the benefits of CBD oil—just keep in mind that these products work differently for everyone, and the Food and Drug Administration has not approved CBD to treat, cure, or prevent any disease.
CBD may help with:
Anxiety and mood
Chronic pain and inflammation
Insomnia
Nausea and appetite
Migraines
Psoriasis, eczema, and other skin conditions
Of all the potential therapeutic and lifestyle uses for hemp, the ones we hear the most about are anxiety, pain relief, seizure reduction, and sleep improvements. So, we did our own research on several scientific studies of CBD to explain more about its potential wellness advantages.
Anxiety and Stress
It's no secret that CBD may help reduce anxiety, it's one of the most popular reasons people take CBD in the first place. This could include everyday stresses, social anxiety, generalized anxiety, or panic attacks. But does CBD oil for anxiety really work? Scientific research seems to think so.
According to a 2013 review, the role of the endocannabinoid system (how CBD works in the body) in mood disorders, including anxiety and depression, plays a key element in the positive effects of CBD for stress. Another review of nearly 50 different studies found conclusive evidence of CBD's ability to reduce anxiety behaviors in rodent models, while human studies supported the potential of CBD in the treatment of anxiety disorders at a dose range of 300-600 mg. Further research indicated that CBD had minimal sedative effects and an "excellent" safety profile.
More research from a 2017 literature review investigated CBD's regulation of emotion and found "converging evidence that acute CBD treatment is anxiolytic [reduces anxiety] in both animals and humans." CBD oil may also help alleviate anxious feelings related to public speaking, as one clinical trial showed a significant reduction in anxiety, cognitive impairment, and speech discomfort in 24 patients with social anxiety while they were giving a public presentation.
Pain and Inflammation
CBD can help balance the human body in many ways, including the regulation of the body's inflammatory response, which may relieve pain by reducing inflammation. Anecdotal evidence supports CBD as a natural remedy for chronic pain relief and its anti-inflammatory effects have a "potential role as another option for treating challenging chronic pain" according to Mayo Clinic.
A 2009 review on the analgesic (therapeutic pain relief) potential of cannabinoids (like CBD). Preclinical animal study evidence for the efficacy of cannabinoids as anti-pain agents was compelling, but human study data is still emerging. In a concluding call-to-action statement: "the medical, as well as the general community, need to move beyond preconceived notions about cannabis, and focus on its potential advantages in treating a host of conditions, including severe pain."
More recently, a 2019 clinical study found that a full hemp extract CBD oil significantly reduced opioid use and improved chronic pain and quality of life in patients with chronic pain. There are also benefits when it comes to the transdermal application of CBD oil, as one clinical trial displayed significant improvement in intense pain, sharp pain, cold and itchy sensations in patients with symptomatic peripheral neuropathy.
Seizures and Epilepsy
The only FDA-approved CBD prescription medication is a drug called Epidiolex, which is intended for the treatment of a rare form of pediatric epilepsy known as dravet syndrome. Clinical trials have shown that CBD has anticonvulsant properties, meaning this cannabis compound may help reduce the frequency of seizures, or minimize seizure severity. With that being said, CBD works best for seizures when paired with other beneficial cannabinoids, suggesting that whole-plant extracts (full-spectrum CBD oils) may have more profound effects when it comes to seizure treatment.
Insomnia and Sleep Issues
As a potential natural remedy for insomnia, CBD oil tinctures may help modulate hormones related to sleep wake cycles through the endocannabinoid system, which is responsible for maintaining balance among many important bodily functions. This means that CBD oil may help people get to sleep more easily, or stay asleep longer.
Many studies on CBD for sleep indicate improvements in sleep quality and reductions in sleep disturbances and sleep onset latency. A 2017 review concluded that research on cannabis and sleep is in its early stages, but that "CBD may have therapeutic potential for the treatment of insomnia" and "may hold promise for REM sleep behavior disorder and excessive daytime sleepiness."
How do I take CBD oil?
Use the dropper to remove the CBD from the bottle. Some helpful brands will put measurements on the dropper to help you measure your dose. But generally, a dropper is about 1 milliliter.
Once you have the oil in the dropper, place the dose of oil directly into your mouth or under the tongue. I recommend holding the oil under your tongue for up to a minute. Holding the oil in your mouth may help your body absorb the cannabinoids. You can also add CBD oils to your favorite food or drink.
To find the right dose of CBD, it's best to start slow and work your way up. Slow and grow, they say.
Pay attention to how the oil makes you feel and take your time. Also ask your self how long does CBD stay in your system? Do you feel effects for a short period of time or a while? It also may be good to take a CBD oil regularly, so the cannabinoids can collect in your system.
Dosing Suggestion
Dosing is the #1 question we get from our readers, but opinions on how much Cannabidiol to take vary. It's almost impossible to find any clinical guidance, so people are left to experiment.
Since dosing guidelines are limited, the best advice is to start low and work your way up to a dose that is right for you. We suggest starting with 1-6 mg of CBD per 10 lbs of body weight, but for more comprehensive instructions, you can check out this brief CBD dosing chart featured below, or read our in-depth guide on CBD oil dosage.
FAQs About CBD
Can you get high from CBD oil?
No, CBD oil won't cause any mind-altering effects like those associated with marijuana. This is because the psychoactive component in cannabis plants is tetrahydrocannabinol (THC), not cannabidiol (CBD). While both CBD and THC are phytocannabinoids that can be found in all cannabis plants, CBD oils contain only trace amounts of THC (less than 0.3% by law), which is not enough to cause a euphoric high in CBD oil users.
Are there any side effects of CBD oil?
Current research indicates that there are few negative effects associated with the use of CBD. CBD has a good safety profile, and the potential side effects are mild (like drowsiness or dry mouth). Additionally, adverse reactions are rare and are often caused by taking too much CBD, so ensuring you are taking the right amount of CBD oil can help prevent against any unwanted side effects.
Are hemp oil and CBD oil the same?
Many people refer to CBD oil as "hemp oil," but it is important to distinguish the difference between hemp oil that contains CBD and hemp seed oil, which does not have the same therapeutic potential as CBD oil and is made in a very different way.
Is CBD legal?
A lot of people ask the question: "Is CBD oil legal?" and the answer is yes. Hemp was federally legalized in the United States with the passage of the 2018 farm bill, although CBD still lies in a legal grey area since the FDA has yet to regulate these products.
Other CBD Products to Try
So, we've covered a lot about hemp-derived CBD and how we picked the best CBD oils based on certain criteria. We think these products show great promise to help people, but you have to be careful shopping online. You always want to shop from reputable brands and avoid spending money on something that has no benefit.
If you're looking for other ways to consume CBD, check out these buyer's guides to find the best CBD products in a variety of application styles:
CBD Gummies
CBD Creams
CBD Oil for Dogs
Always remember, choices about your health are personal. In the end, you want to review CBD oil brands based on what is important to you. You want to try different kinds of products until you find the flavor, potency, and cost that fits your needs.