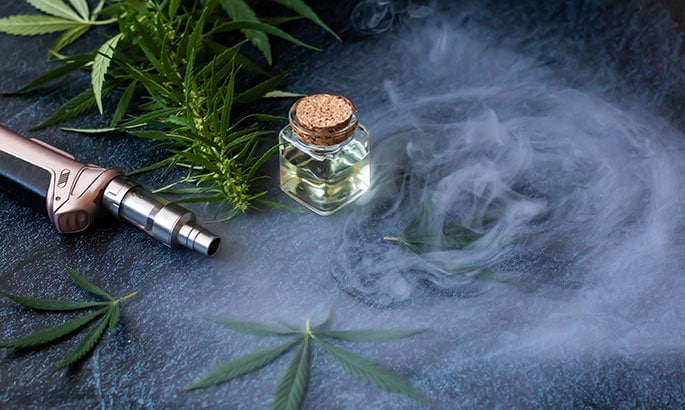 If you've recently purchased some CBD oil for the first time (or are just plain curious to know more about it), you're probably wondering what the best way to consume it is. Can you smoke CBD? While some say smoking CBD oil is the best way to add this non-psychoactive cannabis compound to your diet, others prefer vaporizing over smoking. Then there are those who swear by CBD tinctures.
As an excellent addition to a natural lifestyle, CBD oil is becoming well known for its unprecedented properties. Whether you're smoking CBD oil or using it topically, it's important to understand how it will affect you personally and just what method works best for your personal needs.
6 Different Methods of Consuming CBD
1. Smoking CBD Oil
If you're looking for the highest concentration of CBD you can get, smoking CBD oil might be something for you to look into. CBD oil can be smoked in a few different ways and provides the quickest method of absorption in the body.
For the most concentration in application, smoking CBD oil out of an "oil rig" will surely do the trick. It's used much like a traditional water pipe where the oil is heated to a critical temperature, filtered through water in a chamber, and then inhaled orally.
Dabbing is another common method of smoking CBD oil. Using a CBD concentrate is a great way to harness the powerful effects of CBD and gives you the chance to enjoy CBD in its purest form.
Pros of Smoking CBD Oil
If you're looking for the highest concentration of CBD oil and the most efficient absorption, smoking CBD oil is recommended. Smoking CBD oil also lets you easily manage the amount of oil you consume.
Cons of Smoking CBD Oil
Smoking anything can be harsh on the throat and lungs, which is something many people dislike about smoking CBD oil. And, because it provides the highest concentration possible in the body, those looking for lesser effects might be happiest with a different method.
2. Vaporizing CBD Oil
Some people prefer vaporizing CBD oils over smoking. There are plenty of different vaporizers to choose from, and for someone new to vaporizing, a vape starter kit is the perfect place to begin. Most common vape pens make it easy to consume CBD oil, and it isn't as harsh as smoking it out of an oil rig or regular pipe. Vaporizing CBD oil is an excellent alternative to smoking as one still receives the highest concentration of oil possible.
The highest serving size that can be vaporized is 200 mg before transforming to vapor. It is intended to be used when the maximum effects possible are desired.
Pros of Vaporizing CBD Oil
Vaporizing CBD oil proves not as harsh as smoking it. It's also possible to easily control the amount consumed, which can be done with any common vaporizer.
Cons of Vaporizing CBD Oil
For those who don't want to experience the intense relaxation often produced by inhaling CBD oil, vaporizing may be too strong of a method to use. Vaporizers can be difficult to use for those without prior experience as knowing the exact temperatures to vaporize is pertinent.
3. Using CBD Oil in a Tincture
Taking CBD oil tinctures is another popular method of application. Simply placing a few drops under the tongue and holding it for 30 seconds before it's swallowed is effective, discreet, and offers an excellent extended feeling of calm and wellbeing.
Tinctures can be found in both CBD oil sprays  and CBD drops, which gives the user more options to see what works best for their individual needs.
Pros of Using CBD Oil Tincture
A CBD oil tincture allows you to use as little or as much as you need for the desired effects. Many people prefer CBD oil tinctures for the prolonged effects and discretion when using.
Cons of Using CBD Oil Tincture
When using a tincture, results may vary from person to person. It's also very important to allow ample time for the oil to take effect. Some tinctures may contain alcohol as well. If this is something you're trying to avoid, make sure the CBD oil tincture you're using is made with vegetable glycerin instead.
4. Consuming Edibles Containing CBD Oil
CBD edibles are another option people choose when deciding on how to consume CBD oil. Unlike cannabis edibles, which are known to be too powerful for many people, consuming edibles that contain CBD oil is much different and causes no psychoactive effects. Ingesting edibles made with CBD oil also provides long-lasting effects and is great for those who don't like smoking or taking a tincture.
It's wise to note that, when consuming CBD oil edibles, the effects can take at least two hours to set in. Waiting before consuming more is highly recommended. Some people don't even feel effects for up to four hours, and they will often vary from person to person.
Pros of Consuming CBD Oil Edibles
Edibles have the longest-lasting results of all applications of CBD oil. Because the results of consuming CBD oil edibles are so favorable, CBD can be found in a variety of different foods. This gives people practically endless options when it comes to consuming CBD oil.
Cons of Consuming CBD Oil Edibles
Although CBD oil has no psychoactive properties, consuming CBD oil edibles intensifies any amount of THC that may be present and could result in a psychoactive effect. This is especially true if you've never taken CBD products in the past. On the other hand, some people who have consumed CBD oil edibles have described no change at all.
Consuming edibles can be tricky, and getting the right amount in your system might take a few tries. It's probably best to stick with other methods if it's your first time using CBD oil products.
5. Topically Applying CBD Oil
Although not quite the same as smoking CBD oil or using it in a tincture, topical applications of CBD oil are used. There are multitudes of different CBD topicals available for many different conditions. Simply applying CBD oil topically to the affected area provides quick and temporary relief.
Pros of Topically Applying CBD Oil
The skin rapidly absorbs anything that is put on it. When applied topically, CBD oil will work almost immediately. Topical CBD oils are great for those who aren't looking for a large amount of CBD.
Cons of Topically Applying CBD Oil
When applied topically, CBD will not last as long as with other methods. While it will be very soothing for a while, it is shorter lived.
6. CBD Capsules
For those who prefer the old-fashioned method of taking a pill, CBD capsules are also available. CBD oil supplements can be found in a variety of different strengths, making it easy to take exactly what you need. CBD capsules are easy to take and provide quick relief.
Pros of Taking CBD Capsules
Taking CBD capsules is one of the easiest and most discreet ways to take CBD oil. With most people already familiar with how to take a pill, supplements offer an excellent choice for the first-time CBD user.
Cons of Taking CBD Capsules
For those who have trouble swallowing pills, taking CBD capsules probably aren't the best choice.
There's definitely more than one way to reap the wellness benefits of CBD. Whether you decide to consume a tincture or think that smoking CBD oil sounds like it might work for you, the best method that fits your needs is out there.
If you've tried CBD oil before, what method do you most prefer? If you're new to CBD, what questions do you have about the best way to consume CBD? Please let us know in the comments below.