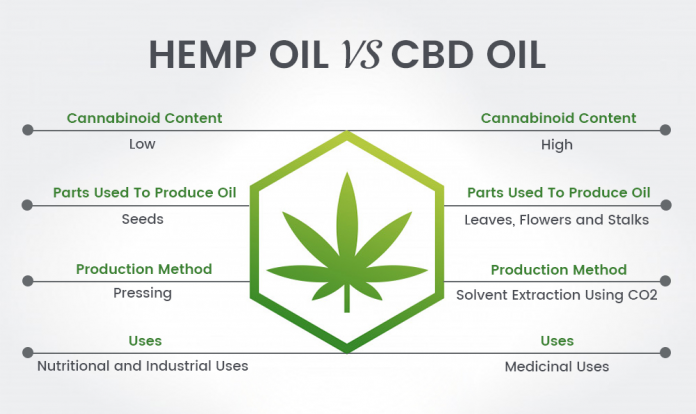 CBD oil and hemp oil may seem similar at first. After all, both are developed using the hemp plant, and both, are widely celebrated by lovers of natural health. The most common and confusing question that bothers buyers is that, is hemp oil the same as CBD oil. There are a lot of variations between these two goods, and their differences are mentioned below:
CBD Oil:
CBD oil is a kind of oil that a hemp plant uses to make. Cannabidiol, or CBD, is its active portion. You can buy CBD oil in the United Kingdom as a tincture for use under the tongue, as an e-liquid for use in a vaporizer, as an edible product, or even as a capsule. Although CBD oil is typically made from cannabis or cannabis plants, it doesn't get you high. This is because CBD isn't a psychoactive drug. Instead, the presence of a cannabinoid called tetrahydrocannabinol, or THC, is responsible for high cannabis levels. Most types of CBD oil contain either no THC at all, or contain such a small amount of THC that after ingestion, it is difficult for you to feel heavy. While, under the Abuse of Drugs Act, THC is banned in the UK, CBD is not. Because of this, in the UK, as well as (with a few exceptions) in the EU, you can legally buy, own and use CBD oil and other CBD products.
For many purposes, CBD oil is used. As a natural pain relief treatment, some individuals use it for its advantages. It is used by some to cure anxiety, depression, and stress. It is also commonly used as a natural alternative to popular sleeping pills. For the most part, CBD oil is used not as a food ingredient or cooking oil (although it might, technically, be used for these purposes), but as a natural remedy and as a supplement. The CBD framework is strictly regulated in the UK. It is essential to make products advertised as containing CBD utilizing such EU-approved hemp strains. They also need to contain 0.2% or less of THC, as higher THC concentrations can induce the psychoactive effects of a CBD product.
Hemp Oil:
On the other hand, hemp oil is a completely different form of oil with various health benefits, effects, and features. It's made to produce a light green, semi-transparent, nutty-flavored oil by pressing the seeds of the hemp plant. This form of oil is widely advertised as hemp seed oil, mostly to distinguish it from other oils that are produced from various parts of the hemp plant. For many reasons, hemp oil is
used. In many beauty and skin products, including facial creams, shampoos, and soaps, it is a common ingredient. In a range of industrial products, such as plastics, paints, and lubricants based on oil, it is also commonly used. Finally, as cooking oil, dressing ingredient, and as an ingredient in a variety of dishes, hemp oil is commonly used in the kitchen. Hemp oil is known to consumers, primarily for its nutritional benefits. It is nutritionally rich in essential fatty acids and fats that are heart-friendly. Most users of hemp oil say, from a taste perspective, that it's similar to walnuts and sunflower seeds. Since this form of hemp oil is produced from the seeds of the hemp plant, there is no CBD or THC in it. As such, for conditions such as pain relief, anxiety, depression, and insomnia, it doesn't give the same therapeutic effects as CBD oil.
Hemp oil vs CBD oil:
The hemp oil and Cbd oil are different from each other and these differences are explained below:
Difference in Ingredients:
Looking at the labels and ingredients, the easiest way to say the difference between CBD oil and hemp oil is. Both come from hemp, a particular form of cannabis plant high in cannabidiol and extremely low in THC. (Around 0.3 percent usually). 'Hemp oil' is known as hemp seed oil more accurately. It is, as the name suggests, derived from the hemp plant's seeds. For several years, hemp seed oil has been widely used for cooking and as an ingredient in different beauty products. For example, some famous brands, such as Nutiva, market their product as "hemp oil" "But it says" raw, organic unrefined hemp seed oil" when you look at the ingredients.
On the other side, CBD oil may be extracted from the hemp or any cannabidiol-rich cannabis strain. It's made using the hemp plant as a whole, not just the seeds. The active ingredient, most usually CBD isolate or CBD distillate, would likely be classified as a "whole-plant extract." There are typically some types of carrier oil in CBD oil tinctures, such as MCT oil or olive oil, for example. Full-spectrum, broad-spectrum, PCR, or phytocannabinoid-rich are other popular labels related to CBD oil. A word that is often wrongly associated with CBD vapes is CBD oil. These products are similar to CBD oil tinctures because they contain extracts based on hemp, but are specifically developed for vaporization purposes.
Method of Production:
A further big difference between hemp seed oil and CBD oil is the method of processing. Hemp seed oil is usually produced using hemp seeds by cold-press extraction. Using the entire hemp plant and more high-tech extraction techniques, CBD oil is made. Supercritical fluid extraction (also known as CO2 extraction) or the more conventional solvent-based extraction is the most widely used method for CBD. Hemp oil is typically more of a light golden to a dark brown hue, whereas CBD oil appears to be green and dark. Using cold press extraction, the hemp seed oil is produced from hemp seeds. It typically has a light green color and a nutty flavor, dark to translucent. Using CO2 or solvent-based extraction, CBD oil is produced from whole hemp plants. Typically, it has a clear to dark gold color and has either a neutral or earthy plant taste.
Contents:
This is a rather big one. CBD-containing goods typically have a label showing the number of milligrams of CBD per unit or serving. Hemp is naturally rich in CBD, as it naturally contains very high levels of CBD because CBD oil is formed by the whole plant. It may also contain other organic compounds, such as phytocannabinoids and terpenes, that occur naturally. Third-party test results are also released by the more expensive CBD oil brands, with a thorough overview of its cannabinoid and terpene profile, along with various other quality metrics.
USAGE:
Since hemp oil and CBD oil are not the same things, they vary greatly in their applications. Hemp seed oil is commonly used in hair and skincare, beauty products, or used for cooking and salads. On the other hand, CBD oil generally refers to a CBD-containing oral tincture taken sublingually by inserting drops under the tongue. In many CBD-rich products, such as edibles, topicals, and other products filled with cannabidiol, CBD oil is also the main ingredient.
Conclusion:
Although it can appear similar to CBD oil and hemp oil, they are actually very different products. It is a natural health product produced using some hemp plant strains, while the other is produced for a number of purposes, from food preparation to industrial production.